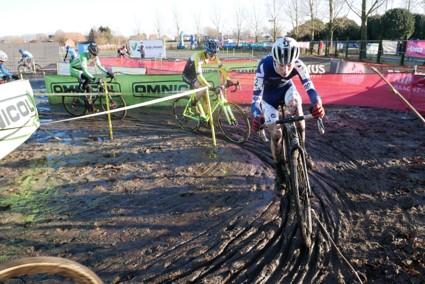 Race 1
This week I spent 2 days in Belgium competing in 2 races. The first race was a DVV Trofee race in Loenhout which was a category 1 race. The whole town was taken over by the race which had huge beer tents, loads of food vans and big screens around the course.
We went round the course the day before while they were finishing setting it up. I loved the course which had a roller section, some ditches, bridges, hurdles, steep banks and rutted corners. The next day we were racing quite early so as the conditions looked the same as the day before I decided not to practice on the course to keep the bike clean.
I was gridded on the 4th row and had an OK start up the long road start and during the first lap was able to move up to about 15th position but then crashed and lost about 10 places. I was moving up again but then managed to crash into a wooden post and bashed my knee which really hurt. After that I got a puncture so went into the pits to change bikes and tried to work my way back but I was not able to put any pressure on my knee. After another puncture I was trying my best to make my way around the course but my knee was hurting so much that I had to retire from the race when I got to the pits. This is the first time since I have been racing cyclocross (about 9 years) that I have had a DNF and it was horrible. We stayed to watch all the pro races which was brilliant in such a good atmosphere.
Race 2
The next day we were racing in Bredene which was a much smaller set-up as it was a category 2 race. We arrived early to practice the course which was more like a British course but with a sandy section and lots of short steep climbs. Going around the course, I realised that there was no way I could put pressure on my knee to go up the climbs so I had to make to decision not to race. I was gutted because I was so looking forward to having a good race after the disappointment of the day before. As a positive I was able to enjoy being a supporter for Daniel and was able to watch him come 8th in his race (he also came 5th in the DVV).
A DNF and a DNS is not what I went to Belgium for but that is racing and I must look forward to the last 2 races of the season and hope that my bad luck is over!