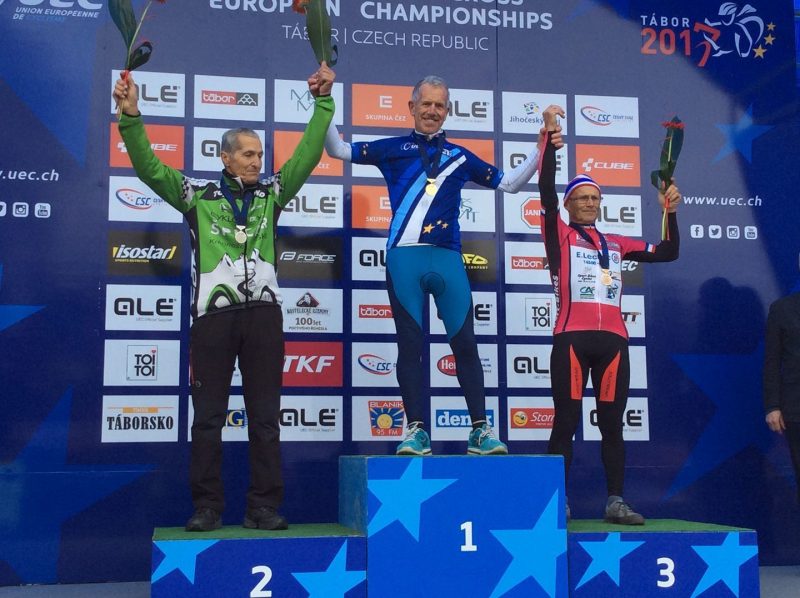 World Masters cross champion, Vic Barnett, flew from the East Midlands to the Czech Republic to contest the 2017 UEC Cyclo-cross European Masters Championships.
Racing on the renowned Tabor course, which features lots of twists and turns, steps and tricky descents, the competitors faced a technical flowing challenge.
Travelling with only one bike, a spare set of wheels made there way to Tabor with the Great Britain elite team, Vic was adopted by the national Swedish team (good friends) who were on hand should Vic need any assistance.
The course was made even more challenging as the ground temperature plummeted overnight producing lots of frozen ruts which could easily take you off the racing line and crash.
From the start the Welland Valley CC rider was easily recognisable in his bright yellow kit as he made a strong effort on the road start.
As the competitors headed off the road out into the country Vic was towards the front of the pack.
A short race in duration, only two laps, Vic was prepared for an intense explosive race. As the race entered the first technical section Vic seized the opportunity to accelerate out of the corners to open up a gap on the opposition.
As the gap opened, Vic grew with confidence.
Producing lots of power on the open sections and high level of concentration in the technical elements Vic rode a perfect race. As he entered the finishing straight he was able to enjoy securing a European gold medal.
Vic and Ann will stay on in Tabor to cheer on a strong British team racing on the same course tomorrow (Sunday) as they look to finish in the medals.
With thanks to Welland Valley CC for this great report, our congratulations to Vic and Ann and good luck to th erest of the team competing today.