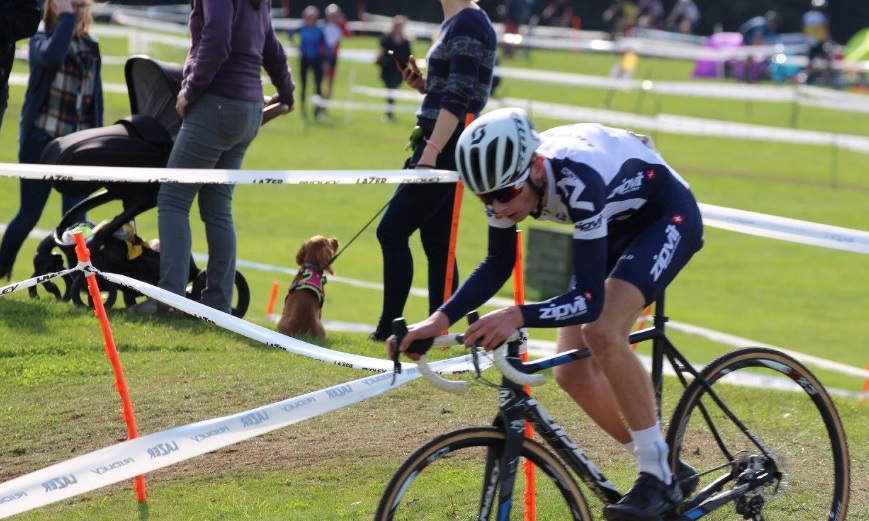 West Midlands Cyclo Cross League actively help our young riders and Ridley Lazer League leader Toby Barnes writes about his latest experiences.
UCI camp and EKZ Switzerland race
Last Tuesday I travelled to Switzerland for the annual UCI cyclocross camp at the world cycling centre in Aigle. I was nominated by British Cycling as one of two representatives. There were riders there from Iceland, Sweden, Czech Republic, Italy, Argentina, Switzerland, Hungary, Ireland, Germany and Luxembourg. The coach for the week was Belgium national coach Rudy de Bie. We stayed in group accommodation in Aigle and cycled about 3km to the UCI headquarters for all of our meals and training. We had sessions on bunny hopping, did a lot of technical training in the woods to improve on the skills required for racing on the continent. Practicing riding the sand pit was great fun and I feel I improved massively with the help of Rudy and learning from the other riders on the camp. Most days we did a road ride along the river or up into the mountains. The mechanics and set-up at the UCI centre seemed really professional. I made friends with many of the riders which was a really fun part of the experience.
The week ended with a race based at the UCI headquarters in Aigle on Sunday, which was a round of the EKZ crosstour. It was a warm week so the course was very dry, dusty and fast with a lot of off camber banks, short steep climbs, sections of pump tracks, steps and a sand pit. The off camber sections and climbs were steeper than any I have done at races this season. My race was with juniors and masters with the total field being about 100 riders. As I don't have any UCI points yet this year, I didn't get a gridding and was going to have to start at the back. Unlike in Britain, riders tend to overlap wheels with the riders in front while you're being gridded, which I learnt last year in Belgium, so I tried my best to push through before the race started and ended up on about the 3rd row which was great. It was a very long tarmac start straight and by the end of it I had moved up into about 12thplace after a really good start. For the rest of the first 2 laps I was moving up through the field. At this point I was in 4th, chasing 2 riders who were fighting for 2nd place. I kept pushing as hard as I could and eventually caught these riders with about 3 laps to go. I'd had to chase these riders really hard so it was going to be hard to beat them. Another rider caught us and on the second last lap they attacked and I just couldn't hold the pace. I was still going flat out in case one of them had a problem and I could gain another place but I finished in 5th. This was a great way to end a brilliant week. We were then able to watch the elite riders and it was good to see GB's Helen Wyman take the win too. This is my best result of the season after one of the best weeks of training at the camp so I'm really happy with how it went.
I am very grateful to the WMCCL, Lichfield CCC and Bicicielo who have all supported me to make this possible. Thank you very much, I really appreciate it.
Toby