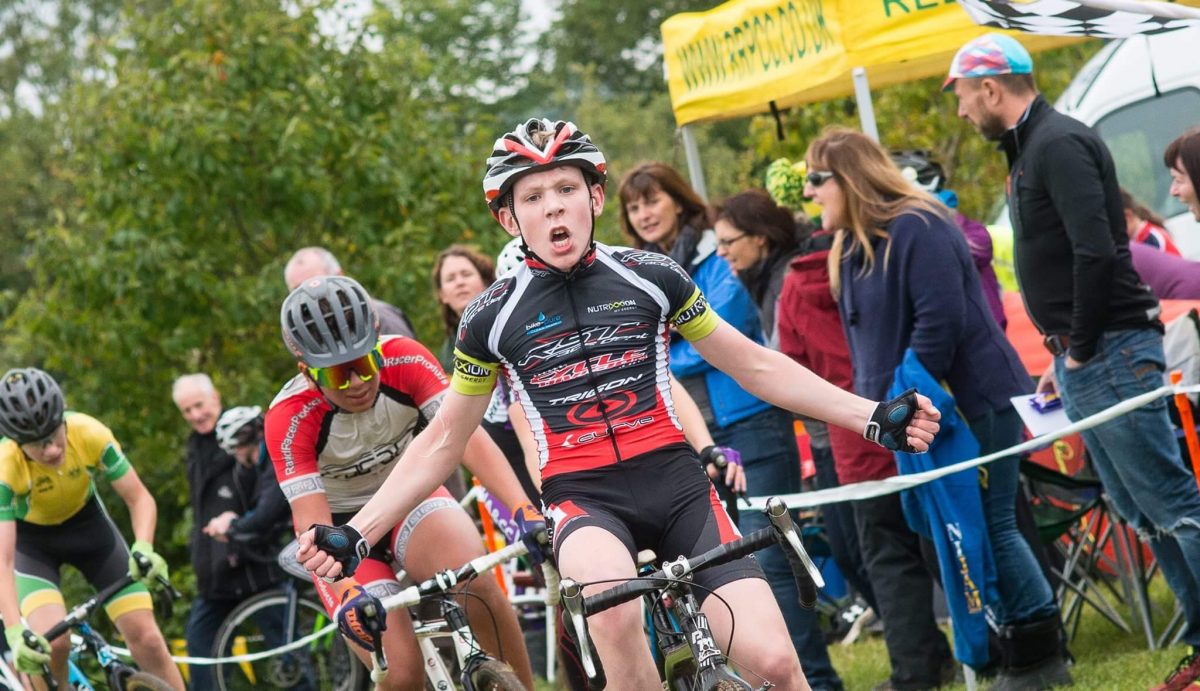 Words: Ben Goddard – Pictures: David Perry
Junior riders Toby Barnes (Lichfield City CC) and Harriet Harnden (T Mo Racing) dominated the men's and women's events in the third round of the Ridley Lazer West Midlands Cyclo-Cross league.
Junior rider Barnes struck back from a third place last week to win the men's event while European Mountain Bike champion Harriet Harnden (T Mo Racing) clinched her first senior victory in the women's event.,
Darren Atkins (Ride Coventry) continued his domination of the veteran's over 40 event, while in similar fashion Stephen Knight (Team Jewson) clinched victory in the veteran's over 50's event.
Stratford CC hosted round three of the league at Liveridge Hill in Henley-in-Arden.
The man-made banks formed a clay proved a tough test for riders in every category along with fast switch backs to test their technical ability.
A crash and several bike changes saw Barnes, from Lichfield, fall back to third in the previous round which was dominated by the Knight brothers.
However, the Junior rider returned in emphatic style attacking on the first lap in similar fashion to the opening round and chased throughout by team-mate Marcus Holmes.
It was a good day for the Harnden family as Ross (Malvern Cycle Sport) road through the field to clinch third.
"It was a good hard course and I just went out hard from the start," said Barnes.
"I tried to get a gap early as last week I was chasing throughout the race following a crash on the first lap.
"I got the gap on the first lap and then it stayed the same for the rest of the race. The course didn't suit me perfectly as I prefer a more technical circuit.
"I have three weeks until my first National series round so hope to keep it up until then."
Atkins again set off in pursuit of the seniors despite starting behind climbing up to 8th overall and comfortable first veteran 40+.
He was again chased by Philip Glaze (Stourbridge CC) in second and David Griffiths (Mammoth Lifestyle RT) in third.
Harnden, from Malvern, is quickly becoming a name to watch and after dominating as a youth last season, in her first race as a junior she took a comfortable victory in the women's event.
Despite being many years younger than most of the field the youngster pulled out an early gap and extended in to take victory by 45 seconds from veteran Verity Appleyard (Brotherton Cycles).
Another junior rider Xan Crees (Team Empella Cyclo-Cross.com) improved on last week's fourth place to round off the podium.
Stephen Knight again dominated the veteran's over 50 event, but this week saw a different challenge in the form of last week's women's winner Hannah Payton (Kinesis UK).
After dominating the women's event last week Payton found more of a challenge with the men and couldn't cope with the relentless pace of Knight.
Payton dropped back to a chasing group which including her father Kevin Payton (Stourbridge CC) along with Team Jewson duo Ian Wright and Peter Busby.
The tightest finish of the day saw Payton sprint past Wright on the line for second place.
In the youth race Simon Wyllie (Halesowen A&CC) made it three wins from three with a comfortable victory.
He was chased by Daniel Barnes (Lichfield City CC) throughout the race in second ahead of team-mate Matthew Kingston.
The under-14 category saw a nail-biting three rider sprint finish in one of the most hotly fought categories of the series.
Lichfield based rider Ben Askey (RST Racing Team) just had the beating of Max Greensill in second and Sullivan Berry (Redditch Road & Path CC) in third, with less than a second separating the trio.
In the girl's event Lucy Hart (Mid Shropshire Whls) made it back-to-back wins by clinching the under-16 win while Ellie Swingell (Halesowen A&CC) took victory in the under-14s.
Spencer Corder (Stratford CC) continued his domination of the under-12 event while Tia Carr (Lichfield CC) was first girl.
In similar fashion George Cooper (Pines Cycles Enve) took another win in the under-10s and Rose Lewis (Halesowen A&CC) was first girl.
Jude White (Mid Shropshire Whls) improved on his third-place last week to take victory in the under-eights while Rose Neely (Solihull CC) took the girls victory.
Toby Leavis (Leicester Forest CC) was again victorious in the under-six category with Millie Barton (Mid Shropshire Whls) first girl.